STAY OPEN: THE 2020 MINI COOPER CONVERTIBLE IN EDMONTON, AB

Nothing says style like driving a MINI and nothing makes one stand out on the road like taking the top off. See what we're getting at? The 2020 MINI Cooper Convertible is equal parts fun and performance, featuring 3 different engines that all go 0-100km in under 10 seconds, as well as loads of customizable options, including bonnet stripes, mirror caps, side scuttles and multiple wheel options. Not to mention a woven Union Jack on the soft top, echoing MINI's heritage. All those possibilities compliment an already aerodynamic profile, svelte lines, chrome accents and the exquisite bodywork that run deep in the history of MINI. And what about for our passionate drivers who really want to make an impression? We give you the
John Cooper Works edition
.
2020 MINI COOPER CONVERTIBLE -PERFORMANCE
Though the MINI Convertible is flashy, the model is rooted in performance. At one end of the spectrum, we have the standard 3-cylinder Twin Power Turbo engine with 134 horses, hauling a chassis with a remarkably low curb weight of 1,318 kg (with the heavier automatic transmission). That chassis will be tearing around corners thanks to the smoothness offered by the Multi-Link Rear Suspension system and a 7-Speed Steptronic transmission. Or you can even upgrade to an 8-Speed Steptronic transmission thanks to the JCW model. Feeling sporty, or just want to coast behind the wheel? Available Dynamic Damper Control allows drivers to switch between either, customizing their journey with the comfort or sport modes.
A MINI COOPER CONVERTIBLE FOR EVERYONE
While the MINI Convertible is embedded in performance, half of the excitement lays in the sheer amount of personalization that can be done with seemingly endless additional features for the interior and exterior. Starting with expressive colours like bold Chili Red, and the sublime Carribean Aqua Met, your MINI's exterior is sure to turn heads. Optional LED Headlights don't only add extra style, but also safety to your ride, while LED corning aids are activated, helping carve the way through low-light conditions. Ride in luxury with stunning available features, such as the intricate Chester Leather Malt Brown upholstery, or have your driving details broadcast right to your line of sight with the futuristic Head-Up Display projection. With tons of standard tech and safety features, as well, from the Rain Warner function, 6.5-inch Touchscreen Display, Rear-View Camera, and Electronic Brakeforce Distribution, your perfect MINI Convertible awaits.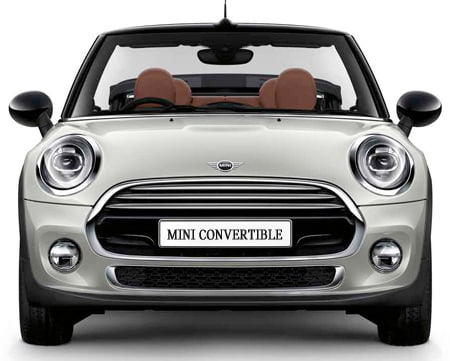 2020 MINI COOPER CONVERTIBLE
You're sure to feel your hair fly in the wind when going 0-100km/hr in under 10 seconds, with a 3-cylinder 12 valve Twin Power Turbo engine.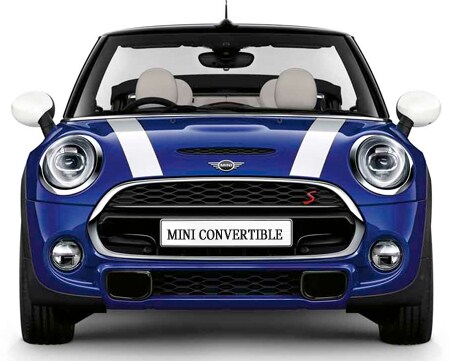 2020 MINI COOPER CONVERTIBLE S
The MINI drivers love with an extra-sporty spunk. An extra engine cylinder adds 55 more horses.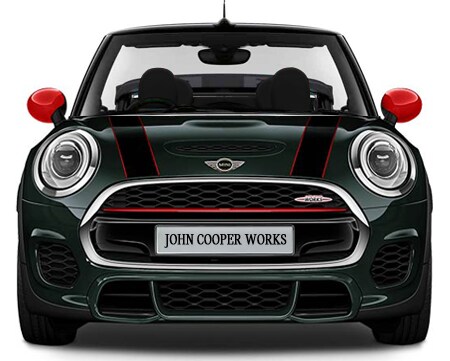 2020 MINI COOPER ALL4 CLUBMAN JCW
For drivers looking for a premier experience, the John Cooper Works performance division will have you going all in.
Drivers looking for a charismatic summer ride? The agile MINI Cooper Convertible gets the job done with a style that is exclusive to the MINI brand. With the performance that MINI is known for and the pleasure of driving with an open top, the MINI Cooper convertible is for you. Contact us at MINI Edmonton today for a stand-out driving experience.

  
Horsepower
   
Curb Weight
  
Torque
 
Starting at 
  
Seating
 134
 2905 lbs
 162 LB-FT
 $31,190
 5
WHY BUY A 2020 MINI CONVERTIBLE?
MINI vehicles are unlike any other. Uniqueness is a rare quality in the automotive industry. Typically, when something new and interesting comes along, the copycats aren't too far behind. But no one has tried to replicate MINI's success, because frankly, it can't. MINI vehicles are all-encompassing. Performance beasts, with a uniquely gorgeous exterior, with an interior filled with exciting technology. The 2020 MINI Convertible is the cornerstone of the MINI brand. Book a test drive today!
Would you like more information?
2020 MINI Cooper Convertible Online Inventory In Edmonton, AB
Sorry, no items matching your request were found.
Reset Search
Test Drive a MINI COOPER CONVERTIBLE Today!